Description: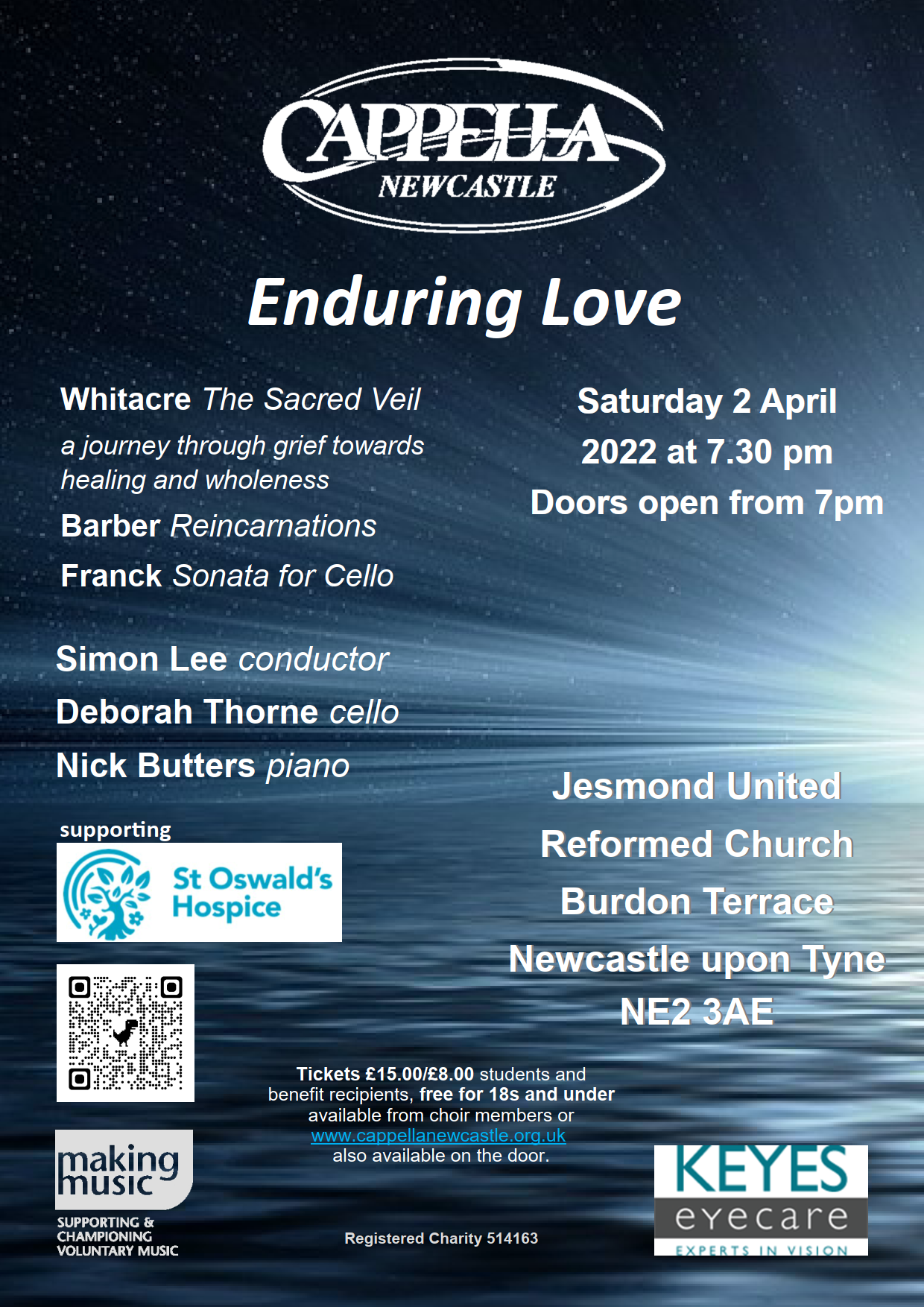 Enduring Love – a journey through grief to healing and wholeness
Eric Whitacre - The Sacred Veil
Samuel Barber – Reincarnations
Cesar Franck – Sonata for Cello
Here's a message from our Musical Director Simon Lee about the programme:

"The Sacred Veil is a highly charged emotional work written by one of the foremost contemporary composers, Eric Whitacre. In it he explores the journey through cancer of Julia Lawrence Silvestri, the wife of one of his dear friends. With text written by Julia and her husband, the poet Charles Silvestri it charts the turbulent ride through diagnosis, pain and suffering to the moment of death, and then - right at the end - the point at which healing begins. The music is haunting but beautiful, aided by piano and cello parts which interweave with the voices of the choir.
Cappella Newcastle is delighted to be presenting the North East premiere of this work. We will be joined by cellist Deborah Thorne and her regular collaborator pianist Nick Butters for the concert, which will also feature César Franck's cello sonata, originally written as a wedding present for Eugène Ysaÿe, the "Tsar" of the violin world at the turn of the 20th Century. Interspersed with the movement of the sonata, Cappella will perform Samuel Barber's Reincarnations, three short a cappella works in which the composer draws on his Irish heritage to explore three different aspects of love.
This concert represents a departure for Cappella from our usual programming; the emotional content of the programme is challenging both for performers and listeners alike. We are very lucky to be working with palliative care physician and author Dr Kathryn Mannix and the team at
St. Oswald's Hospice
to encourage conversation about these difficult topics. Music has always been a powerful tool for communication and here it allows everyone who experiences these works to take time and ponder our journey through life and love."
Cappella has chosen to support the amazing work of St Oswald's Hospice by organising fundraising collection on the night of the concert. Please come prepared to give generously!